Resolve 85% of your CX tickets in seconds
The ReSponse AI app instantly responds to customers based on your company data; reducing first response times and resolution delays. You get multi-modal AI powered automation for your CX team needs, without the AI hallucinations.
No credit card required. Instant setup. 30-day free trial.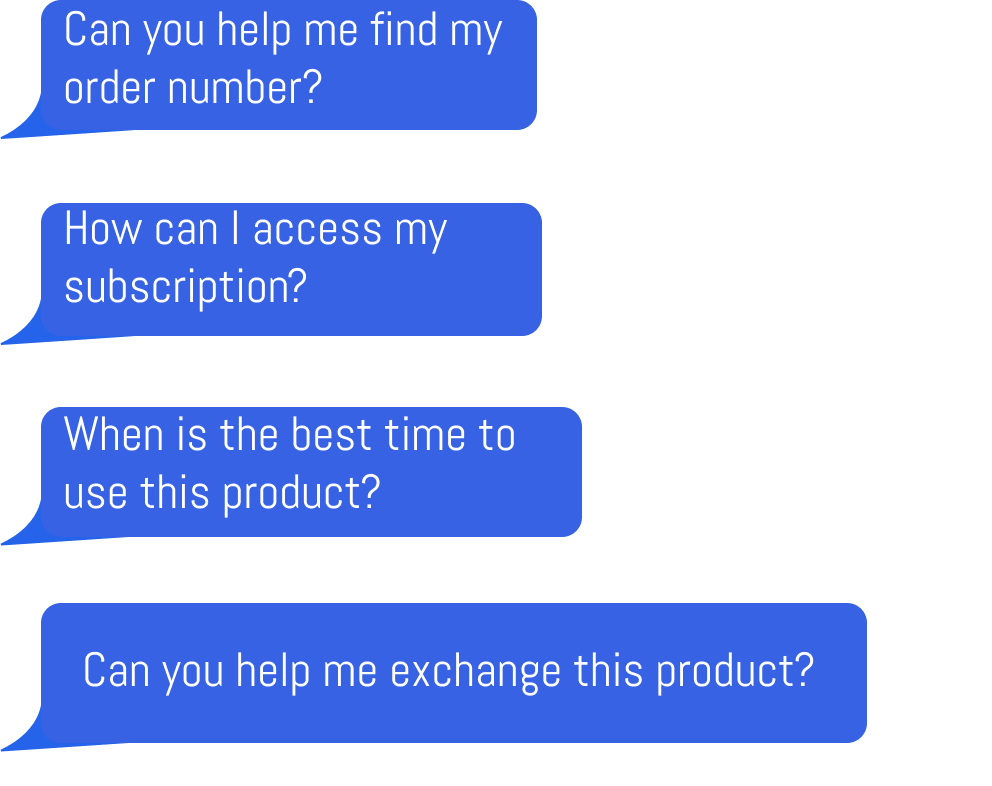 #1 AI CX App for Shopify & Gorgias Merchants
Revolutionize your customer experience with ReSponse App, the cutting-edge multi-modal AI agent designed exclusively for Shopify brands. Powered by GPT4 and the most advanced AI technologies on the planet, ReSponse empowers you to create AI-generated customer service responses tailored to your company's unique data. ReSponse Agents automatically reply to customers in every channel (Instagram, Facebook, Chat, eMail and more). Say goodbye to long response times and hello to automated support that surpasses your expectations.
Decrease in First Response Times

98%

Decrease in Resolution Times

80%

Increase in CSAT Scores

28%

Decrease in Return Cycle Time

71%

Increase in Subscription Retention

53%

Increase in Exchange Efficiency

62%
Empower Your DTC Business with 24/7 AI Responses!
Seamlessly reply on every channel and drive outcomes that enhance your CX Ops. Experience a knowledge base setup handled by our team with dedicated expert support. Never miss a customer query again.
With ReSponse there are NO usage costs / NO setup costs / NO hidden fees / NO per automation or Volume based Pricing. It's a flat $350 per month, AND you cancel anytime.
RAG + GPT4

Retrieval Augemented Generation (RAG) based on Vector DB + OpenAI GPT4

Real-time Integrations

Integrated with Shopify and Gorgias for automating CX Tickets based on your Macros, Product and Order data

AI Functions

Make API calls directly from ReSponse App to power advanced workflows and automations at no extra cost
Achieve more, faster
Why ReSponse?
Shopify Merchants use ReSponse to fix their customer service problems and get the results they want. Plain and simple. ReSponse helps you achieve your CX goals.
Knowledge Base Integration

Shopify merchants can upload a variety of documents to Stateset ReSponse, including company knowledge bases, product information, FAQs, or any other relevant source of information. This not only simplifies customer support processes but also ensures responses are shaped by the merchant's unique resources and information.

Gorgias Integration and Enhanced Customer Experience

Setting up your Customer Service Assistant is a breeze with ReSponse. In less than 15 minutes, you can have your AI-powered support system up and running. Seamlessly integrated with Gorgias Chat, ReSponse automatically handles and responds to customer requests, streamlining your customer service operations.

Post-Purchase Automation and Workflow Integration

By tying the generated responses to processes such as Returns Management Automation (RMA), Warranty Management, Shipping Label Creation, and Inventory Management, merchants can create a seamless, interconnected ecosystem for managing their online stores.

GPT-4 Turbo Model and Functions

At the heart of Stateset ReSponse lies OpenAI GPT-4, the largest and most sophisticated language model ever created. The incredible potential of GPT-4 is just starting to be harnessed for applications like StateSet ReSponse AI, which serves to automate post-purchase operations and elevate e-commerce customer support

Unparalleled Customer Satisfaction

Experience an average CSAT score of 95% with ReSponse. Its state-of-the-art GPT4 technology ensures that each interaction leaves your customers satisfied, enhancing brand loyalty and driving repeat business.

Lightning-Fast Resolution Times

With ReSponse, your customers will not be kept waiting. Enjoy resolution times of less than 5 minutes, empowering your team to handle more inquiries and deliver exceptional service.
Generate Responses and automatically response to your tickets using data across Shopify, Gorgias Macros and more.